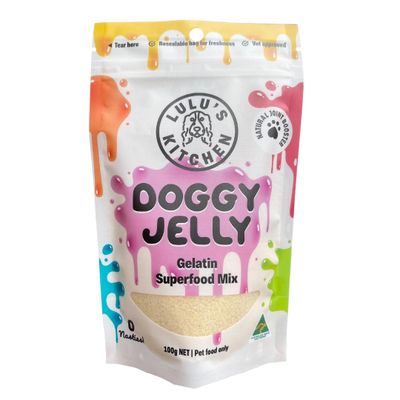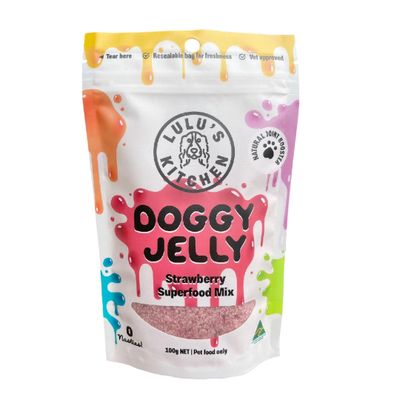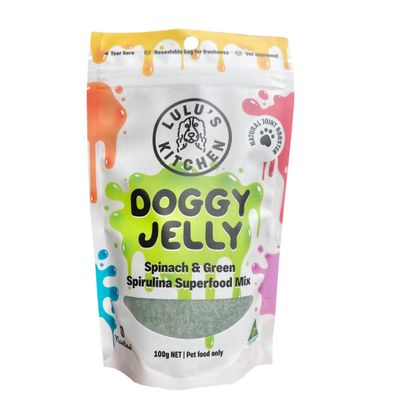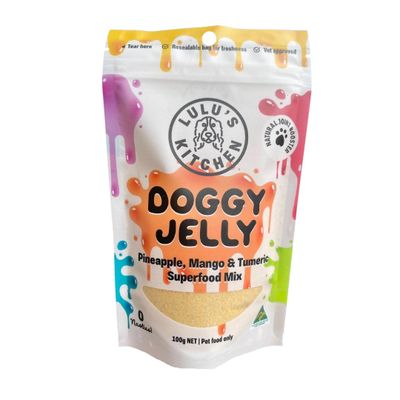 Doggy Jelly
SodaPup
$25.00
This product option is unavailable. View other options.
Let your dog try something new!
Jelly has enormous benefits to your dog's health! Easy to make and great for brain health, healthy skin, healthy fur and it has incredible anti-inflammatory properties!
100% High grade Australian pure gelatin. Manufactured in Australia using 100% Australian Beef.
Strawberry:
Combining the benefits of Vitamin C, Vitamins B1, Vitamin B6, and Vitamin K, fibre, potassium, omega-3 fatty acids, magnesium, iodine and folic acid! Our Strawberry Doggy Jelly is a tasty, nutrient rich jelly for your fur baby!
Spinach & Green Spirulina:
A great source of essential fatty acids, an allergy reducer, high in Vitamin A, Vitamin B, Vitamin C, Vitamin K, Iron, antioxidants and beta-carotene - this one packs a healthy doggy paw-punch!
Pineapple, Mango & Tumeric:
The two fruits bring fibre, Vitamin A, Vitamin B6, Vitamin C, Vitamin E, Calcium, manganese, copper, potassium, magnesium, phosphorus, zinc, whilst tumeric provides pain relief for joint issues and arthritis, is a brilliant antioxidant and brings a huge boost to the immune system! Yummo!
Directions:
Mix 25g of Jelly mix with 100ml of boiling water, stir and dissolve well. Pour into mould to make brilliant snacks or extra's for your dog's meal. You can add honey to make even thicker, but this is not needed with our Jelly.
Please remember your dog's safety is your responsibility. No dog toy is indestructible. Choose only toys that are the appropriate shape and size for your dog and always supervise your dog's use of this toy. If damage occurs, please discontinue use of the toy immediately.

SKU: 10000-9-14