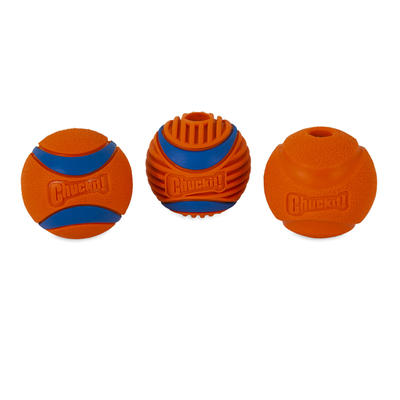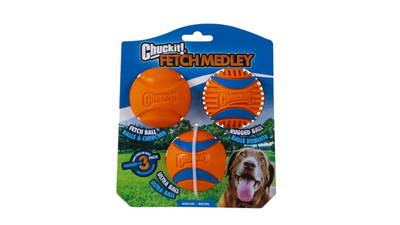 Chuck It Medley
Chuck It
Out of stock
Give your dog a choice!
Give your dog options during a fetch with Chuckit!'s® Fetch Medley Gen 3. This medley of premium fetch balls includes the classic Fetch Ball, the popular Ultra Ball, and the new Rugged Ball.
Designed just for fetch, the classic fetch ball features a high bounce when thrown that helps keep dogs engaged in play.
The # 1 selling Ultra Ball is designed to have high buoyancy and high durability for land or water play.
The new Rugged Ball is designed for rough play and has unique ridges that make it easy to grab and helps keep teeth clean.
The balls are all size medium.
Your dog will love the variety of fetch balls to choose from with Chuckit!'s Gen 3 Fetch Medley!

Please remember your dog's safety is your responsibility. No dog toy is indestructible. Choose only toys that are the appropriate shape and size for your dog and always supervise your dog's use of this toy. If damage occurs, please discontinue use of the toy immediately.