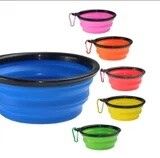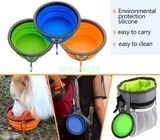 Collapsible Bowl
$10.00
Out of stock
Get ready for Summer and some amazing adventures with your pets!
Don't worry about carrying heavy water bowls with you...
Here is your solution... the foldable water and/or food bowl.
The carabiner makes it easy to attach to your backpack or just fold and pop away.
Water bowl, no leaks and foldable design makes storage easy
Non-toxic and BPA free
High Food grade Silicone
Holds about 350ml of liquid
Size: 9cm (bottom) to 13cm (top)
Please remember your dog's safety is your responsibility. No dog toy is indestructible. Choose only toys that are the appropriate shape and size for your dog and always supervise your dog's use of this toy. If damage occurs, please discontinue use of the toy immediately.

SKU: 100092-2